LE 2 BAIE
Beach & Restaurant
Beach, Cocktail Bar, Aperitifs and Easy Food in Santa Severa
Beach
3000 square meters available to our customers
Bar - Cocktails - Aperitifs
From breakfast, snacks and drinks … to an aperitif by the sea
Easy Food
Cold dishes and salads with quality products
"Le 2 Baie" since 1987
"Le 2 Baie" was born in the late 80s and is, to this day, managed by the same family that, from father to son, has been able to pass on with wisdom and passion the love for this oasis of peace and respect for the sea.
The beach is characterized by the presence of 2 distinct bays: a bay protected by a cliff, ideal for children, who can swim in total safety; the other Bay directed towards a fantastic sunset, ideal for those who want to take a swim in the open sea. Lovely place for all those who wish to taste an aperitif enjoying one of the most beautiful sunsets in Santa Severa given its peculiar position.
We also have a control turret in perfect "Bay Watch" style also guarantees maximum safety for swimmers when the sea is rough or very rough.
Approximately 3000 square meters of organised beach
"Classic" or "First Row Comfort" area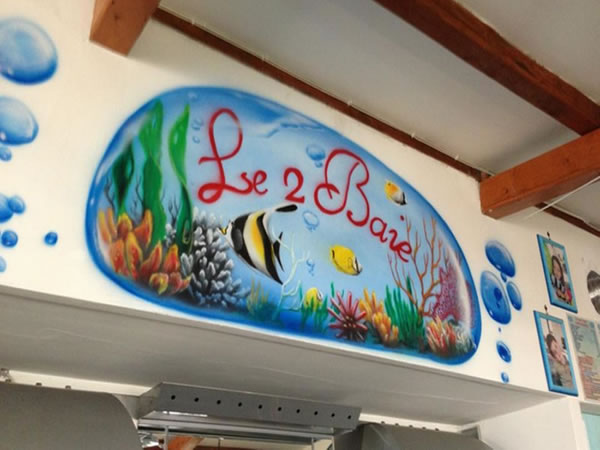 Cocktail Bars and Aperitifs in Santa Severa
"Le 2 Baie" has a covered bar area where you can satisfy your palate.
From Breakfast passing through Easy Food lunches made exclusively with quality products from the surrounding area, arriving at the fantastic Aperitifs and Cocktails at sunset.
A SPECIAL LOCATION
FOR PARTIES&EVENTS
We organize exclusive parties and events for you with Catering or restaurant service.
Sports and entertainment at Le 2 Baie
You never get bored at Le 2 Baie.
We have provided for you a series of sporting activities for the older ones while our staff of entertainers will take care of entertaining the little ones with Games on the Beach.
You can use Pedal boat or Canoe to view the wildest areas of the Grottini area.
For those who want to stay fit there is also the possibility to book a Pilates lesson, Acqua Gym or SUP (Stand Up Puddle) with our qualified instructors.